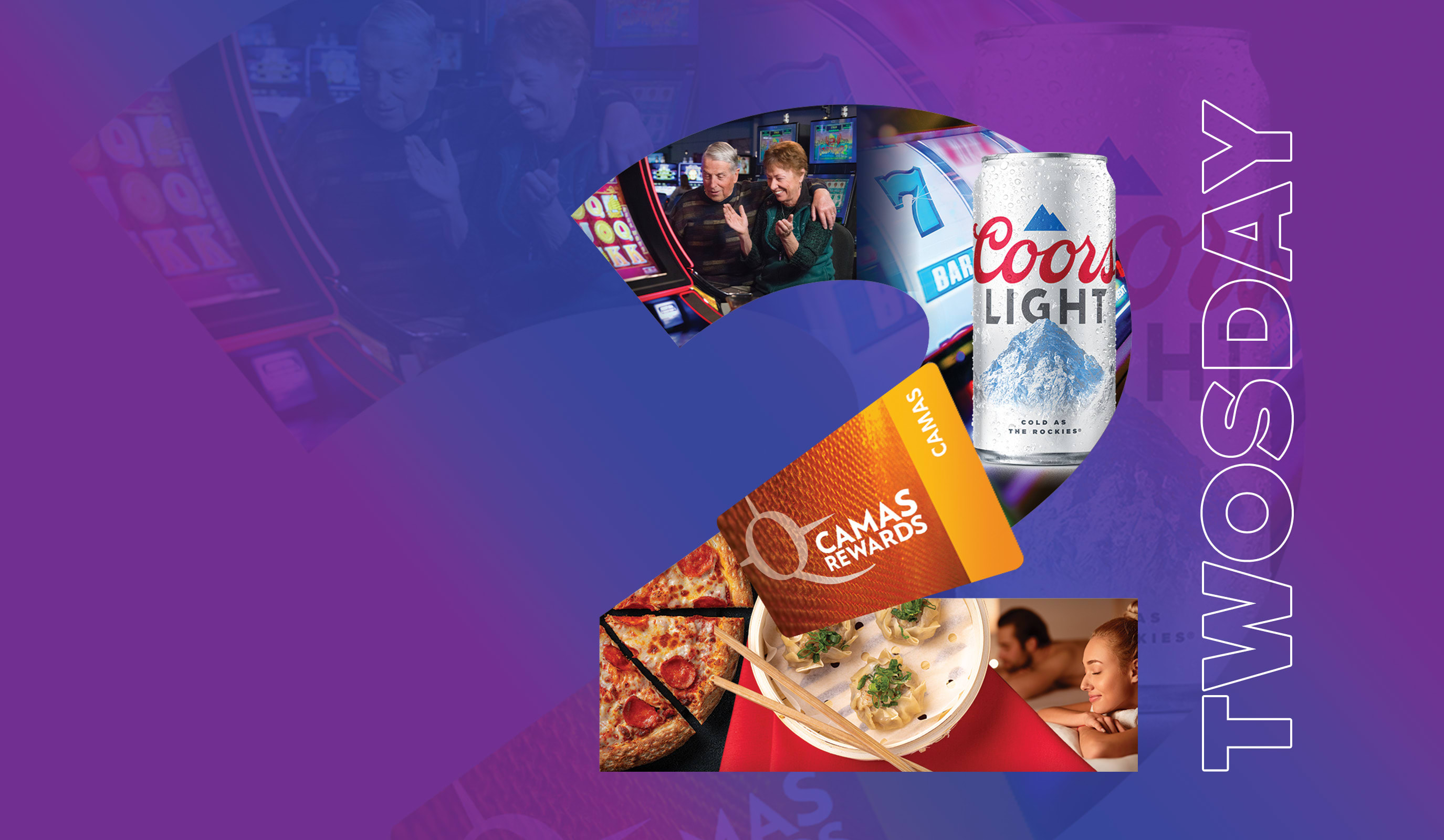 Twosdays
We all know how Mondays go, so shake 'em off with resort-wide deals every Twosday! Camas Club members can enjoy food and drink specials, gaming offers, and more each week, brought to you by Coors Light.
Not a Camas Club member? Sign up for free to take advantage of these Twosday deals.

PLAY
2X Base-Point Multiplier

Twosday Slot Tournament / 10am-4pm
20 winners every week! Get details below.

Double Promotion Entries
Claim at any Camas Kiosk.
DINE
Two for $2 Mini Waffle Bowls at Ben & Jerry's
Served with your choice of single scoop.

$2 Pepperoni Slice at Neon Pizza
Up to two slices per guest per day.
$2 Ground Beef Taco at Qdoba

$2 Cheeseburger Soup at EPIC Sports Bar
Dine-in only.
$2 Small Fries at Fatburger
Two Potstickers for $2 at East Pan Asian Cuisine
EXPERIENCE
$222 Junior King Suite Rate
Valid only on Tuesday stays. Excludes concert nights.

$22 Off a Kalispel Companion Massage at La Rive Spa

Two-for-One Special at Windfall
See Windfall for each week's featured item.

Two-for-One Child Care at Kids Quest / 3-7pm

1/2 Off Game Play at Cyber Quest / 3-7pm

All Twosday deals not to be combined with other offers.
Twosday Slot Tournament Details

This promotion will take place from 10am-4pm each Tuesday in September and October 2023.
Camas Club members 21 years and older are eligible to play in one free slot tournament session from 10am-4pm each promotion day. Participants must complete their slot tournament session by 4pm. The top 20 scores of each tournament will win the following prizes:

1st place: $250 cash
2nd place: $150 cash
3rd place: $100 cash
4th-10th place: $50 Reward Play
11th-20th place: $25 Reward Play

All winners will be posted at the main Camas Club by 4:30pm. Must be present to win. Must provide valid ID and SSN. All prizes are non-transferable. Winners are responsible for all applicable taxes. Prizes must be claimed by 11:59pm on the Wednesday following the promotion. All unclaimed prizes will be retained by Northern Quest. All Reward Play will expire 24 hours after it has been awarded.
How to start a tournament session: Participants can begin a tournament session by inserting their Camas Rewards card into a slot machine at the Slot Tournament Bank. Participants will follow prompts on the screen during a pre-session tutorial. A timer will start the countdown to the beginning of the participant's session. Each session throughout the tournament will be one minute long. After a participant has played in a session, their score will appear on their machine's screen.
If any slot tournament information is completely lost due to machine malfunction, the player must immediately notify a slot attendant. The session that malfunctioned will not count towards a participant's tournament score and they will get another opportunity to play a session.
Participants may not leave the machine during sessions. In the event the participant leaves their machine before their timer runs out, the participant will receive the score that is displayed on their machine at the end of the session. If a participant removes their Camas Rewards card from a machine before the start of their tournament session, the machine will exit tournament mode and the attempt will not be counted. Once a tournament session has started, participant will not be able to cash out their slot ticket until the session ends. Once a tournament session concludes, the slot machine will automatically revert back to the original slot machine game.
Team Members of Kalispel Tribal Economic Authority, Kalispel Casino, and Northern Quest Resort & Casino, as well as family members of Loyalty Marketing and Marketing, are not eligible to participate.
We reserve the right to modify or cancel at any time and to exclude any individual from this contest at our sole discretion. Any dispute not covered by the above rules shall be resolved by casino management and shall be final and binding.