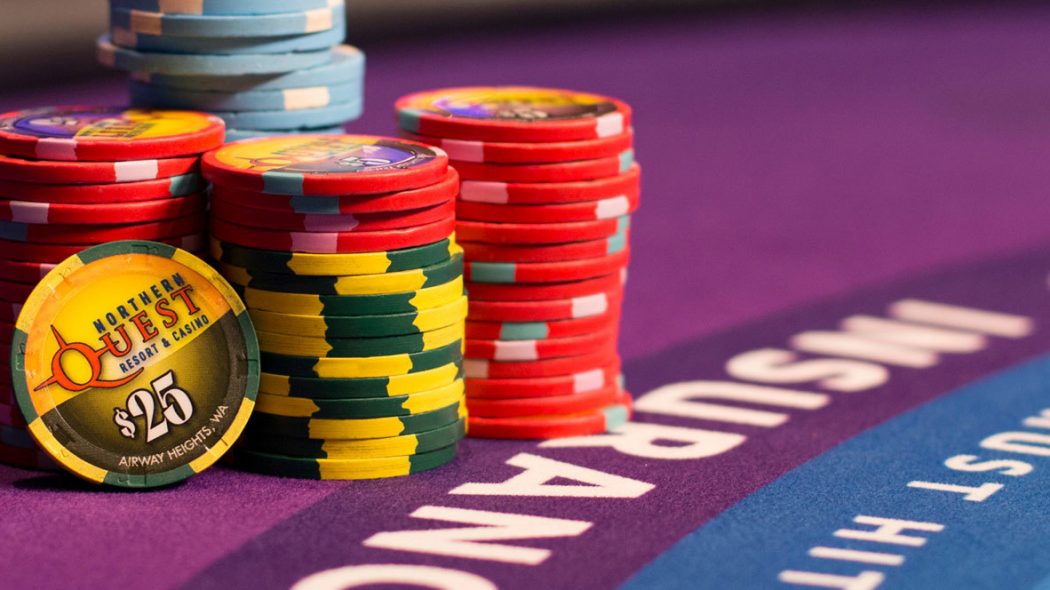 $1,500-Added Blackjack Tournament
Second Tuesday of Each Month
Get in on the action with this $30 buy-in tourney. Sign-up begins at 4pm* with qualifying rounds taking place at 5, 6 and 7pm, and finals at 9pm.
*Play table games from 2-4pm on tournament days to be eligible for priority sign-up.
Sharpen your skills before the tournament with $2 Blackjack any day when playing the bonus bet. See Table Games for details.

QUALIFYING ROUNDS

Six tables with six players per table = 36 players per round / Three qualifying rounds = 108 possible players*

Top two money winners advance of each qualifying table.



SEMI-FINAL ROUND

36 semi-finalists / Six tables with six players on each / Top money winner from each table advances to finals



WILD CARD ROUND FOR FINAL TABLE

Six names will be drawn from the group of 72 players that did not qualify for the semi-finals One table with six players / Play a ten hand round / Top money winner advances to the finals.



FINALS

Six winners from semi-finals / One wild card winner / Total: Seven finalists


PRIZE FUND

1ST PLACE – 40%
2ND PLACE – 20%
3RD PLACE – 15%
4TH PLACE – 10%
5TH PLACE – 6%
6TH PLACE – 5%
7TH PLACE – 4%

* If less than 12 players sign up for the third round, that round will be cancelled. The semi-finals will be reduced to the two top money winners per table and three wild cards, for a total of 15 players. There will be three tables with five players per table.



RULES

1. Each round will consist of 25 hands.

2. Each player will receive a starting bankroll (in an amount to be determined by Table Games Management) in tournament chips and must play every hand. Minimum and maximum bets will be determined by Table Games Management.

3. The player(s) with the most chips on each table will advance to the next round.

4. First base shall rotate in a clockwise manner each hand. First base will be determined by random draw on the first hand.

5. Each round, players start with an equal amount (to be determined by Table Games Management)

6. Players may not alter their bet after placing it on the betting circle.

7. Players have the option of betting in order. Betting order is first base to third base. Betting order will be enforced if necessary.

8. Insurance is NOT offered. Even money must be requested by the player. Blackjacks are paid 2-1.

9. Table Games Management's decision is final.

10. Players must keep all chips on the table, separated by color, and in clear view for all to see.

11. If a player cannot make, or chooses not to make, the minimum bet (determined by Table Games Management) they are out. If a player must leave the table for an emergency, the minimum bet per hand will be deducted from the player's stack for a maximum of five hands. If the player has not returned by the conclusion of the fifth hand, the player is out.

12. A player chip count will be done after the 20th hand. One count per table.

13. Any misplacement of cards on the deal is a misdeal. All cards are burned.

14. Inadvertent hit – Any card that is put on the table or exposed will be burned.

15. Skipped player – A player that has received their card in proper order will keep that card, but any players that have received cards out of order shall have those cards burned, then action will begin at the proper place.

16. Extra hits – Cards that are hit to the player or dealer that are extra shall be burned, except any card that was a legal hit.

17. Dealer exposes hole card before all have acted. The missed player(s) will have the opportunity to hit/ stand/split/double at the floor person's discretion, even if the dealer has hit their hand. Exception: If the dealer has busted, no further action will be allowed.

18. Tiebreaker – There will be five additional hands played by the players involved in the tie. First base will be determined just as it would to start a round. Involved players will all start with an amount determined by Table Games Management.

19. No outside help or discussion is allowed.

20. English only during table play.

21. If players do not qualify in the first round, they may re-buy in the second and/or third qualifying round as long as they are not active in a current round and space permits.

22. At the conclusion of the final round, player with highest chip total wins 1st place prize, 2nd highest chip total wins 2nd place prize, etc.

23. *If there are less than 42 players, no money will be added by Northern Quest Resort & Casino.
Northern Quest Resort & Casino is committed to responsible gaming. If you or someone you know has a gambling problem, please call the Washington State Problem Gambling Helpline at 800.547.6133 or Camas Path at 509.789.7630.