The Ultimate and Official Northern Quest Holiday Gift Guide of 2019
Our elves have been working hard curating a special gift guide featuring unique presents for everyone on your list.
We take the holidays seriously around Northern Quest. When it's September, we're already planning for New Year's Eve and we start decking the halls before the Thanksgiving turkeys hit the freezer section. So when it comes to holiday shopping, you can bet we've also been hard at work creating a special gift guide featuring our favorite giftable products from our Northern Quest retail venues like Windfall, La Rive Spa, Birch Glen, and more. Read on and get inspired if your shopping list has you stumped.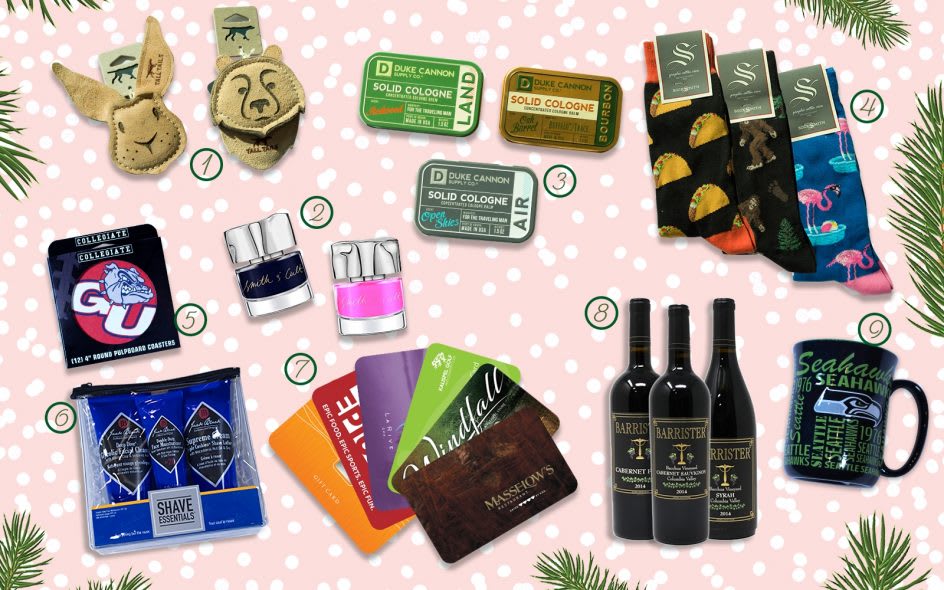 Can we all agree that stockings are actually the best part of Christmas morning?
1. Tall Tails Dog Toys $10 in Windfall - We weren't kidding when we put together a guide for everyone on your list. This leather toy will stand tough in the face of any canine.
2. Smith & Cult Nail Polish $18 in La Rive - Smith & Cult is known for their wide array of intensely bold colors, edgy packaging and branding. Rumor has it that it's nearly impossible to purchase one of these polishes for someone else without getting one for yourself, too.
3. Duke Cannon Soap $30 in Windfall - This cheeky brand makes every day grooming essentials with scents like bourbon and open skies and they donate a portion of their proceeds to active duty military and veteran causes.
4. Socksmith Socks $10 in Windfall - Show off your rebellious side, even when the dress code is business casual. Fun fact: The bigfoot print is a customer favorite!
5. Collegiate Coasters $10 in Birch Glen - An affordable way to show team spirit as we head into college basketball season.
6. Jack Black Shave Kit $25 in La Rive - The perfect 3-piece essential kit to throw in a gym bag or carry on.
7. Gift Cards Available online or at any Northern Quest retail venue - Northern Quest gift cards can be used all around property and cover everything from the hotel to the casino and back again. Think of it as an all-access pass to an entertainment destination.
8. Barrister Wine Starting at $25 in Marketplace - Though not technically a stocking stuffer, the local winery is a Spokane favorite and makes a great host gift for any holiday party you may attend this season.
9. Boelter Ceramic Mug $20 in Birch Glen - Perfect for the avid sports fan to enjoy their morning coffee with pride.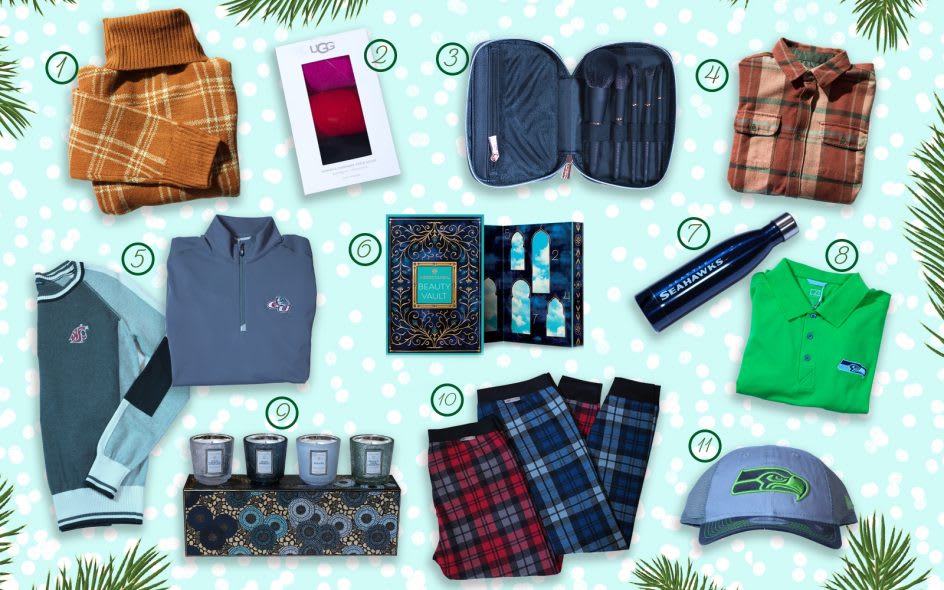 A little something for everyone.
1. Sweaters Starting at $30 in Windfall - Whether you are a Spokane native or a recent transplant, you know it's not an exaggeration to assume that even after December there will still be at least three months of winter left, so giving the gift of warmth and style is always appreciated. Swing into Windfall to browse through a variety of colorful knits for everyone on your list.
2. UGG Cashmere Sock Set $79 in La Rive - Christmas equals cozy and there is nothing cozier or more luxurious than cashmere. Make sure that this is the first gift unwrapped so they can be worn immediately on Christmas morning.

3. Youngblood Makeup Brush Kit $95 in La Rive - Originally developed for people recovering from harsh medical treatments and known for their high-quality natural makeup, Youngblood offers clean luxury products, including this 5-piece kit and travel case for any makeup routine on the go.

4. Prana Men's Flannel $89 in Windfall - A heavy-weight flannel in a classic design that is so high quality it will last for many winters to come.
5. College Pullovers $89 in Birch Glen - We root for the home team around here and you can't go wrong with updating your favorite sport fans' closet.

6. MoroccanOil Advent Calendar $44 in La Rive - An updated version of the holiday tradition that replaces stale chocolate with beauty products.

7. Boelter Tumbler $30 in Birch Glen - Support those on your list looking to make new habits in the new year with a water flask to throw in their gym bag.

8. Cutter & Buck Polo $56 in Birch Glen – Though we're a few months out from golf season, there's no time like the present to get your golfer geared up for the upcoming season.
9. New Era Cap $23 in Birch Glen - For that person on your list that always has football on their mind.

10. Voluspa Pedestal Candle Set $50 in La Rive - Not only are these candles delightful to burn, they are poured into beautiful jars that are deserving of a #shelfie or repurposing to corral jewelry on the nightstand. You know what? You should probably consider picking one of these sets up for yourself, too.

11. UGG Plaid Pajamas $78 in La Rive - A practical present for those families that carry the tradition of gifting a new set of pajamas during the holidays.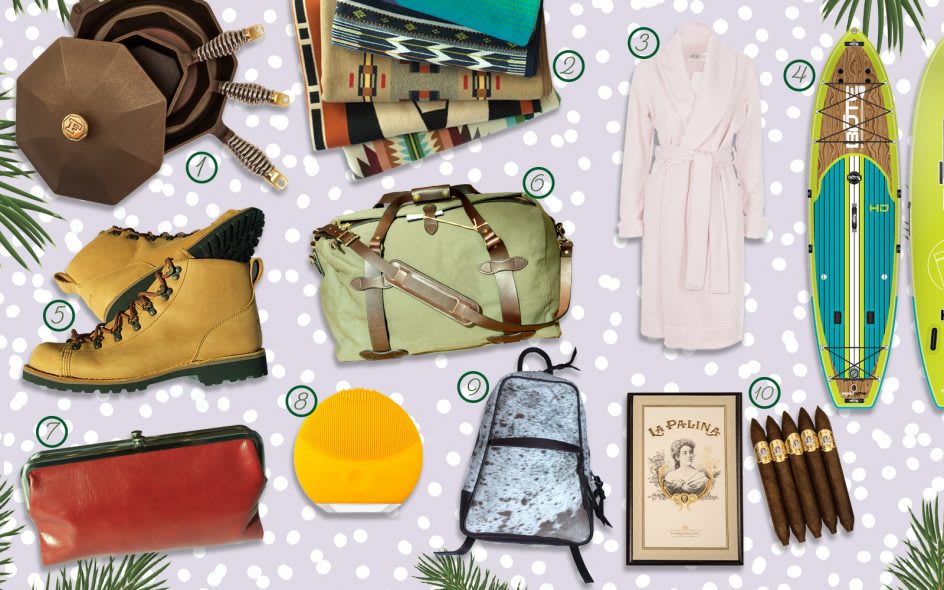 These are the gifts you won't let Santa take credit for.
1. Finex 12" Iron Skillet $180 in Windfall - Every good chef worth their seasoning salt needs a cast iron pan as a staple in their kitchen.
2. Pendleton Blankets $140 in Windfall - The classic wool blankets (and beach towels!) come in an array of patterns and colors to make a bold impression on that special someone that already has one of everything.

3. UGG Robes starting at $130 in La Rive - We promise the selection of plush robes in La Rive will be tempting enough to just keep for yourself.

4. Bote Board $700 in Windfall - The only problem with putting a paddle board under the Christmas tree is figuring out how to wrap it.

5. Danner Boots $189 in Windfall - High quality boots made in the PNW for explorers of the PNW. Bonus: These boots are great for all four seasons experienced in Washington state.

6. Filson Weekend Bag $395 in Windfall - Not only is this a stylish piece of luggage, it will literally last forever because Filson guarantees the quality of their products over a lifetime.

7. Hobo Wallet $138 in Windfall - Vintage-inspired and designed with functionality, these iconic leather wallets make a great gift for that person on your list that never asks for anything but deserves the best.

8. Foreo Luna $139 in La Rive - Foreo is on the top of every skin-care guru's list this year for their cutting-edge technology that will leave skin glowing in the midst of dry winter weather.

9. Jackson and Hyde Backpack $312 in La Rive - A stand-out piece that will surely rake in compliments.

10. La Palina Pasha Perfecto Box $115 in Legends of Fire - A collectible and covetable cigar pack for the aficionado on your list. P.S. If you're not sure where to start when it comes to cigars, the friendly staff in Legends of Fire would be happy to guide you to the right choice with specials on cigars starting at $8.
With a little something for everyone, we strive to make holiday shopping as stress-free as possible. Perhaps even take a moment to treat yourself while you're here with a flight from Riverbank Taphouse or a Candy Cane Champagne Dream Pedicure in La Rive Spa. Don't forget to take advantage of the complimentary valet parking and to sign up for a Camas Rewards card so you can earn points and comps with every purchase made at Northern Quest!