What Your Favorite Beer Says About You
A comprehensive guide to what's on tap at Riverbank Taphouse.
Believe it or not, a time existed when only a handful of beer options were available and they all tasted pretty similar. Since then, the craft beer craze has reached a frenzy of new heights with new and independent breweries seemingly popping up daily. Riverbank Taphouse at Northern Quest Resort & Casino sees this vast array of flavor profiles as an opportunity of exploration, and with 52 taps of ever-changing beer, everyone's favorite is well-represented. In honor of the beer revolution, let's have some fun and talk about what your beer choice says about you...
LAGER/PILSNER
Uncomplicated and easy to please, you're the Golden Retriever of beer drinkers. No need to pull out that expensive bottle of red that's been aging in the cellar for a year − life's everyday accomplishments are worth toasting with a frosty glass of the finest easy-drinking beer. We can find you popping the bottle cap off with anything but a bottle opener while sharing your motto that it really is 5 o'clock somewhere.
IPA/PALE ALE
There was a recent study that said people who favor bitter flavors tend to be risk-takers, thrill-seekers and occasionally, psychopaths. But, hey, those are the kinds of people that initiate progress, especially when it comes to malted grains. Hoppy, bitter and a little in your face, you require a beer that might put a little hair on your chest. You know your stuff and we can find you rating the variety of brews on Riverbank Taphouse's Untappd page or putting a home brewing kit in your Amazon cart.
CIDER/MEAD
Though it may seem trendy, you, an intellectual, know that fermented fruit and honey drinks have historical roots in ancient Greece. And if it was good enough for the folks that invented democracy, it's good enough for you. This makes you smart enough to know that too much of a good thing can be just right − especially when it tastes like summer in a bottle.
PORTER/STOUT
You're a sophisticated person with sophisticated tastes − your snifter is a dead giveaway. You enjoy the finer things, though pedestrian food pairings are not required when your beer is so thick you can practically chew it. We can find you in the dimly lit corner of the bar, holding court among your peers, sharing fan theories about the latest HBO series.
GOSE/SOUR
You're not here for a long time, you're here for a good time. Trends come and go, and you're cresting the wave of discovery in search of the flavor profiles that amuse, delight and perhaps, slightly offend. By the time we finally get on board with you, you're on to the next thing. We can find you posting Instagram stories while attending a secret underground concert for a band that doesn't exist yet.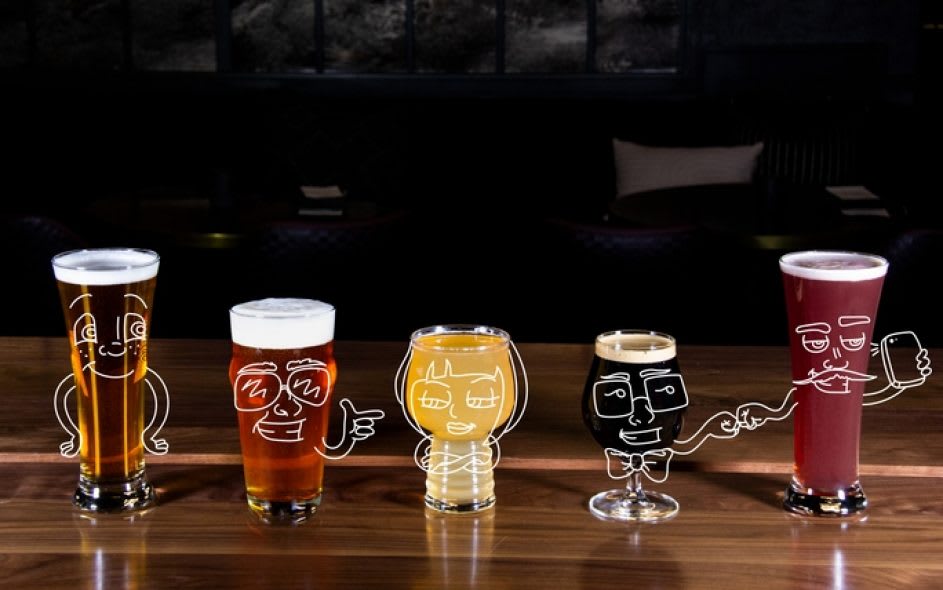 While those characterizations are fun and fictitious in so many ways, it is true that we all have our long-time favorites. Though our familiar inclinations exist, the cool thing about the 52 taps at Riverbank Taphouse is the variety within a category, which allows for any beer drinker to explore new possibilities. Pair the opportunity for fresh tastes with Cicerone-certified bartenders who are all profoundly knowledgeable, and the frenzy of the craft beer scene is just easier to navigate at Riverbank Taphouse.