It's Show Time: A 24-hour Look At Putting On The Best Concerts in Spokane
A backstage pass to the creation of a memorable music-filled summer night.
Photo by Spencer Newman
Each year for nearly a decade, a summer's long migration happens in Spokane. No, it's not the beloved Redband Trout in the Spokane River or the thousands of three-on-three basketball players for Hoopfest, but rather concert-goers at Northern Quest in search of a good time at the annual Pepsi Outdoor Summer Concerts.
With over 95,000 music fans walking through the gates of our outdoor venue each summer, they bring an undeniable and infectious energy with them and it's a monumental undertaking to put on a celebration of music of this caliber. The dedicated men and women known at Northern Quest as Team Members, spend countless hours transforming the property to party-central 19 times per summer and it's truly a sun-up to sun-down affair.
Join us, as we give you a backstage pass to making a memorable music-filled summer night.
4AM
Rise and shine! The Northern Quest bakery team is up and at 'em this morning hand-measuring, mixing and baking all the sweet treats you'll find in River's Edge Buffet, EPIC and Masselow's for your pre-show meal. Since it's also a concert night, they are making custom confections for the band and crew, too.
5AM
Coffee is starting to brew as our baristas begin the process of opening the Marketplace and our Thomas Hammer location right off the casino floor. In an hour, you may overhear an early-rising Team Member ordering their cup of joe with a double shot of espresso in preparation of the long day ahead.
Did You Know: The Pacific Northwest knows a thing or two about good coffee, and we're spoiled at Northern Quest. We have two amazing coffee shops serving the best locally roasted coffee from Thomas Hammer Coffee Roasters. The best part? You can order all your favorite drinks AND buy your roasted coffee beans right off the casino floor!
6AM
Our AV Production crew is hard at work in the outdoor concert venue unloading equipment and gear from the tour trucks that rolled onto property in at the wee hours of the morning.
Did You Know: In 2018, Brad Paisley's tour brought 8 trucks and 9 buses to our venue. The set up for his show included 2 bars on stage where our Production crew worked as bartenders for special guests, as well as Brad and the band while the show was going on.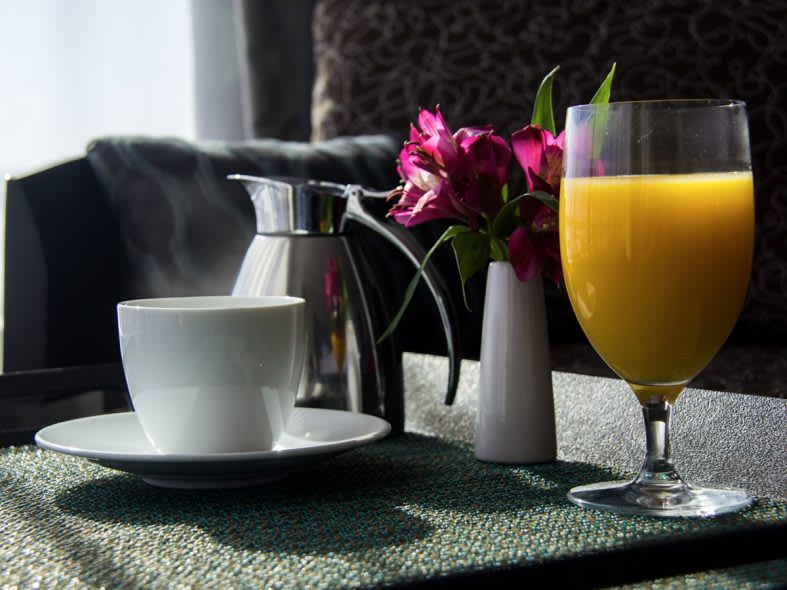 7AM
Breakfast is being whipped up in EPIC, River's Edge Buffet and Masselow's Steakhouse. The Masselow's Team has another important job this morning (and every morning) – they are fulfilling custom room service orders for our 250 room hotel. Plus, our back-of-house kitchens are gearing up to feed all the hard-working Team Members it takes to put on a show.
8AM
Our IT Department starts tackling the ever-important network setup for the night's show. Thanks to them, every ticket reader and point-of-sale machine is set up and tested. Plus, they ensure the complimentary Wi-Fi is working at Mach speed for the thousands of social media posts hitting the internet later that night. If everything goes without a hitch, you won't even notice they were there. That's a job well done.
9AM
"Thank you for calling the Northern Quest Box Office, how may we assist you?" The Box Office opens to answer questions, fulfill will call ticket pickups, sell last minute seats, and direct guests to the outdoor concert venue. From open to close, this group of hardworking Team Members never sees a slow moment on a concert day.
Did You Know: You can save 10% on childcare at Kids Quest on the day of a show with your ticket stub.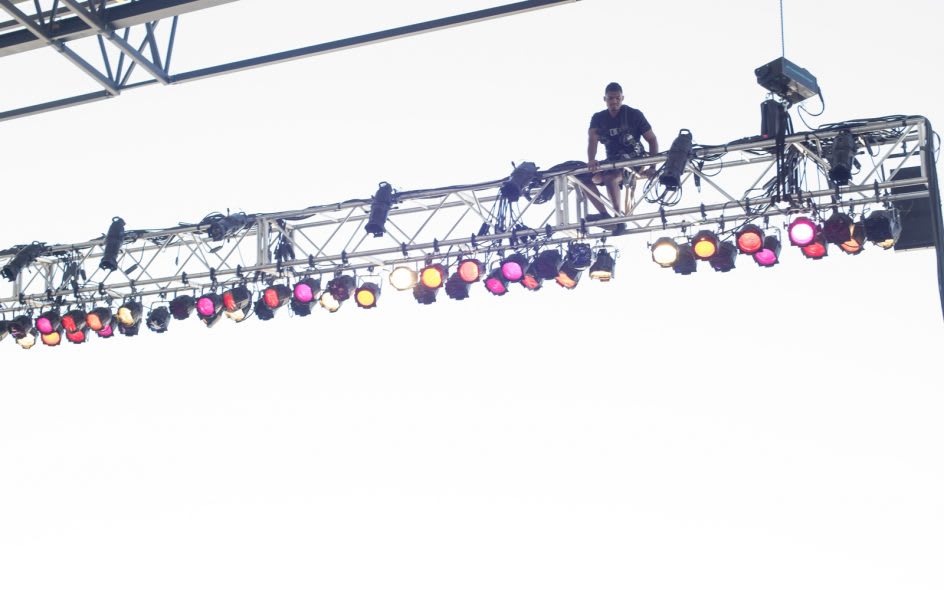 10AM
While most people on a nine-to-five schedule have only been at work for an hour, it's break time for our early morning concert crews. In one of the three employee break rooms, you may find a few Team Members kicking back in a massage chair, trying for the high score on a vintage PacMan arcade console or simply enjoying a soda while reading a copy of The Inlander before it's time to get back to work.
11AM
As the pace of preparation starts to teeter between high speed and lightning fast, two of our 19 shows this summer had a little extra a-do. An all new series of events are occurring at Northern Quest this summer called Quest Sunday Fest. On July 21 and 28, we hosted both a Quest Sunday Fest event and a Pepsi Outdoor Summer Concert. Why is 11 am important? That's when thousands started descending on Northern Quest for the street festival and the Northern Quest Team Members kick it into high gear assisting in tent set-up or mixing up a Supreme Bloody Mary.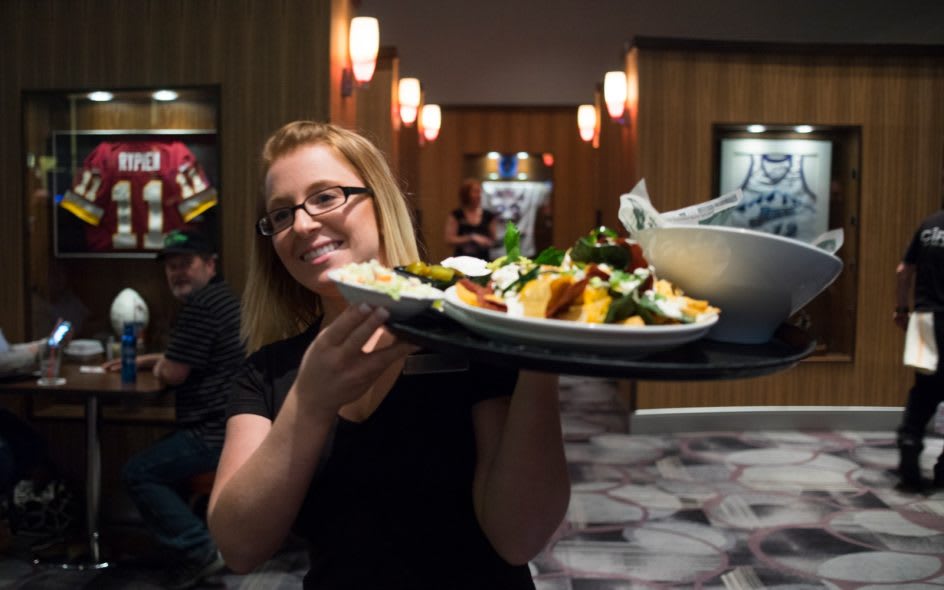 12PM
Our culinary teams haven't slowed down since breakfast, and now it's lunch time. It's also the calm before the storm so grab a seat in one of the over a dozen dining venues across property. Who knows, while you're digging into the Gut Buster burger at EPIC, you might run into Rick Springfield or the members of Incubus. It's been known to happen!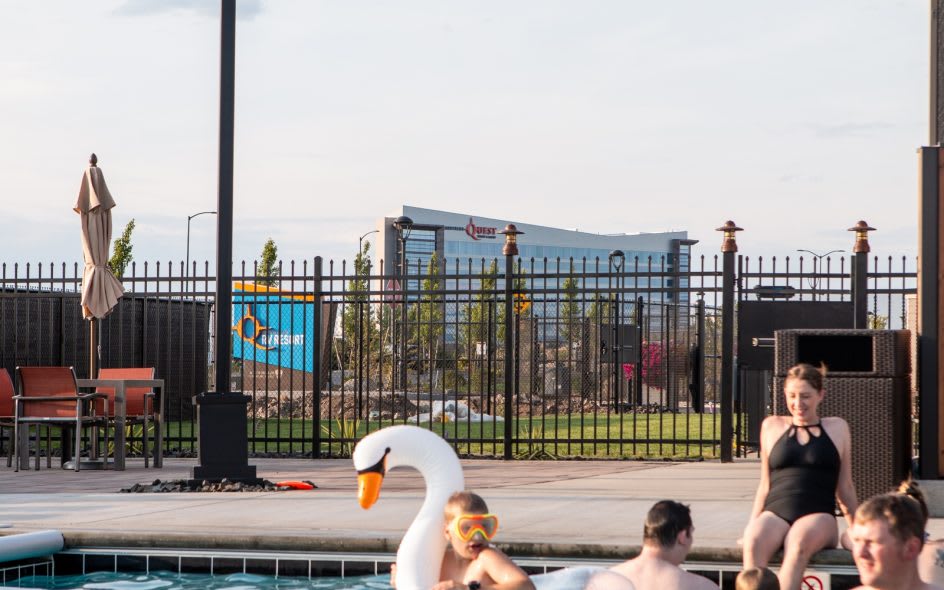 1PM
Over at our luxury RV Resort, the RV Team begins checking in and greeting guests. Located down the street from Northern Quest, guests can rent an oversized space for their RV or stay in a 1- or 2- bedroom cottage, while taking advantage of the outdoor pool, dog park and fire pits before and after the show. With the high demand for hotel rooms on concert night, the Northern Quest RV Resort makes for a great alternative for overnight options during show nights.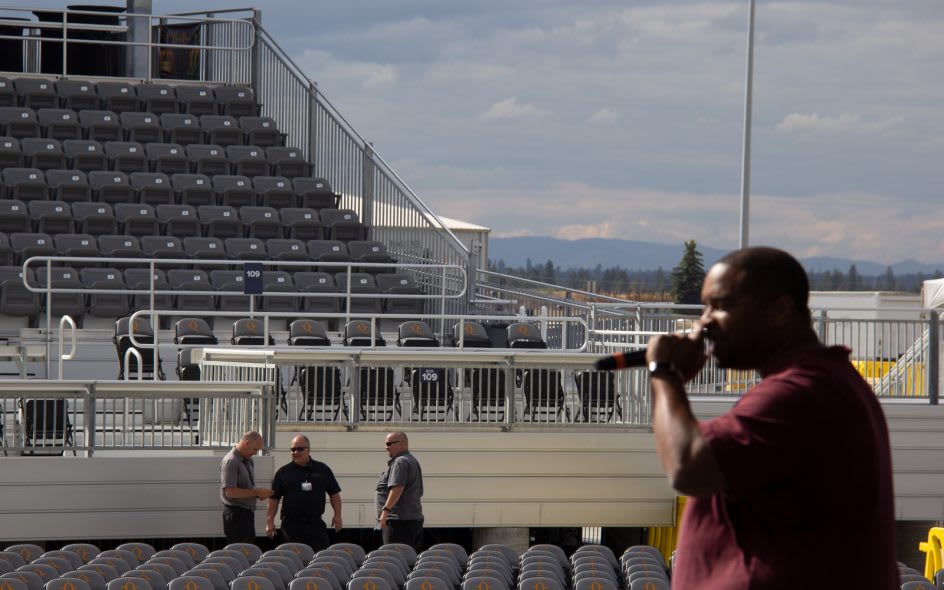 2PM
After eight hours of stage set-up, soundcheck begins. Our AV Production Team works with the artist's crew to test the sound quality of each instrument. While this is not open to the public, let the anticipation set in as you hear the warm up of heavy bass notes around the whole property.
Did You Know: Since 2010, we've done 91 shows outside and 240 shows inside. Old Dominion will be our 100th concert in our outdoor venue.

3PM
While happy hour doesn't truly begin until 4pm, it seems like every hour is 'happy hour' on concert day! The Lounge at Masselow's Steakhouse opens and starts to fill up with people grabbing a cocktail, hand-crafted by the knowledgeable bartender, before the show. Grab a seat and a glass - this is prime real estate for people watching or meeting up with friends before the show. If the Lounge is at capacity, head towards the casino where an equally knowledgeable bartender at EPIC, Liquid, Turf Club or Riverbank Taphouse is ready to mix up your favorite cocktail.
4PM
The Hotel Front Desk Team begins checking in overnight guests. Our 250 hotel rooms make for the perfect pre-show place to unwind with the luxury beds and our spa-inspired showers, just ask Bret Michaels, Keith Urban or Tony Bennet, (to name a few). If you happen to be staying with us on the night of a show, take a moment to enjoy the view from the top when you step off the elevator - there's an amazing view of the concert venue from the landings on each floor of the hotel.
5:30PM
The Box Office moves from its indoor location to its outdoor location right outside the main entrance of the BECU Live stage in preparation of greeting all our music-lovin' guests. Meanwhile, the Washington State Patrol and the Kalispel Police Department work together to direct guests to complimentary parking in our covered parking garage and our convenient surface parking lots.
Did You Know: The stage roof can support upwards of 80,000 pounds of equipment.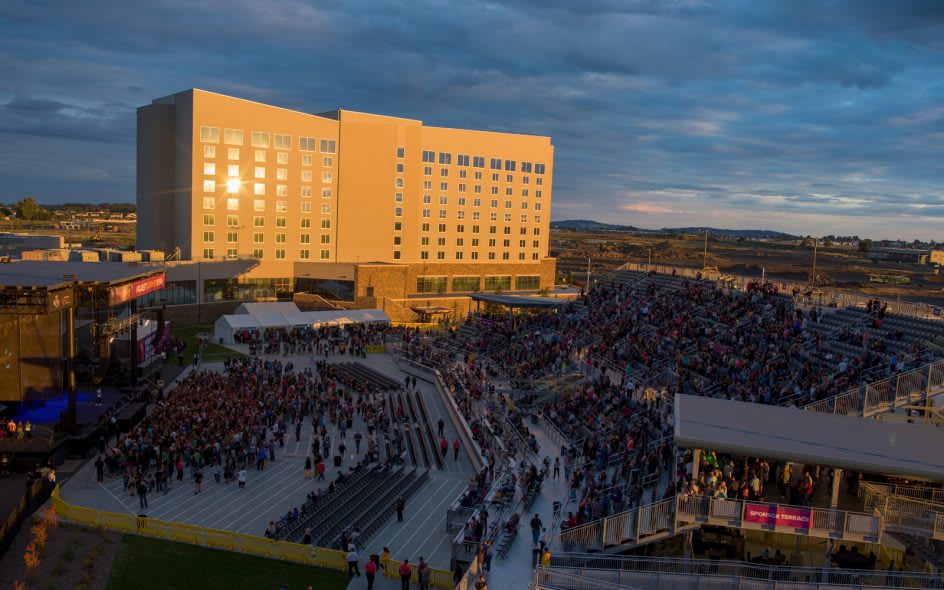 6:30PM
The gates open and the crowd of 5,000 begins to file in past our vigilant security staff whose task is the most important – keep you and your loved ones safe. Happy concert-goers start grabbing merch, enjoying a Coors Light from the concessions stands, finding their seats in the Grandstand or treating themselves to a waffle cone from our friends at the Ben & Jerry's ice cream truck.
Did You Know: If you leave your purse or small bag at home, you can enter the venue through the bag-free line to speed up your wait in line!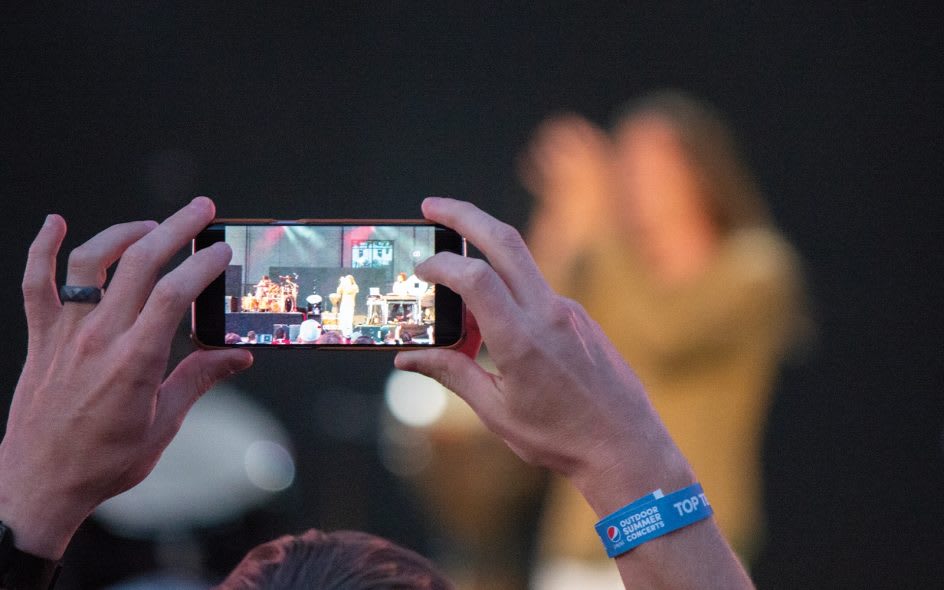 7:30 PM
Showtime – and the culmination of hard work and day-long prep is here. The lights go down, and the crowd begins to cheer as the opening act takes the stage.
Did You Know: If you post and tag your photos from the concert with #QuestSummerEver, you have the chance to be featured on our social media channels!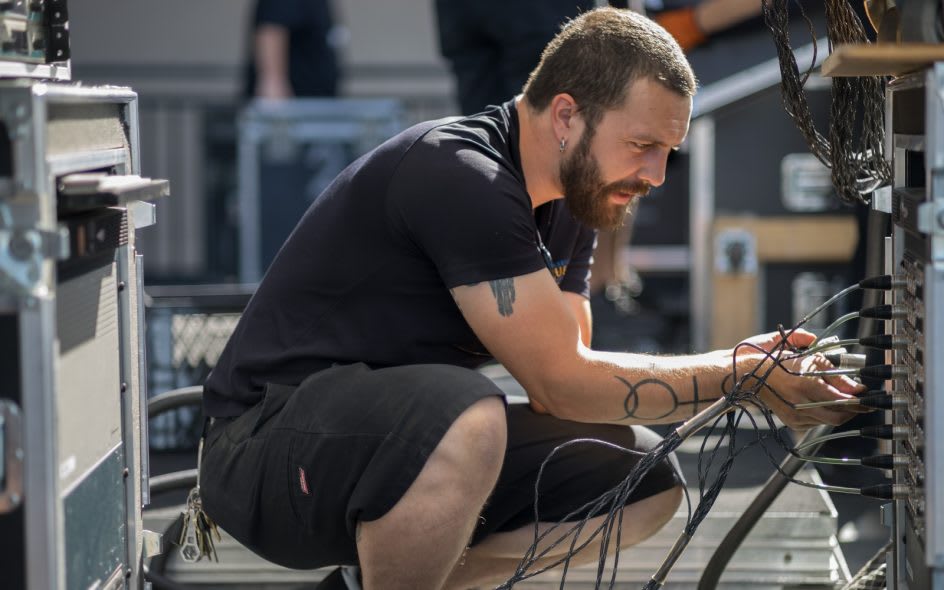 8:30PM
The opening act bids the audience adieu and our AV Production crew kicks it back into high gear to swap out equipment for the main act. It doesn't take long for this well-trained crew.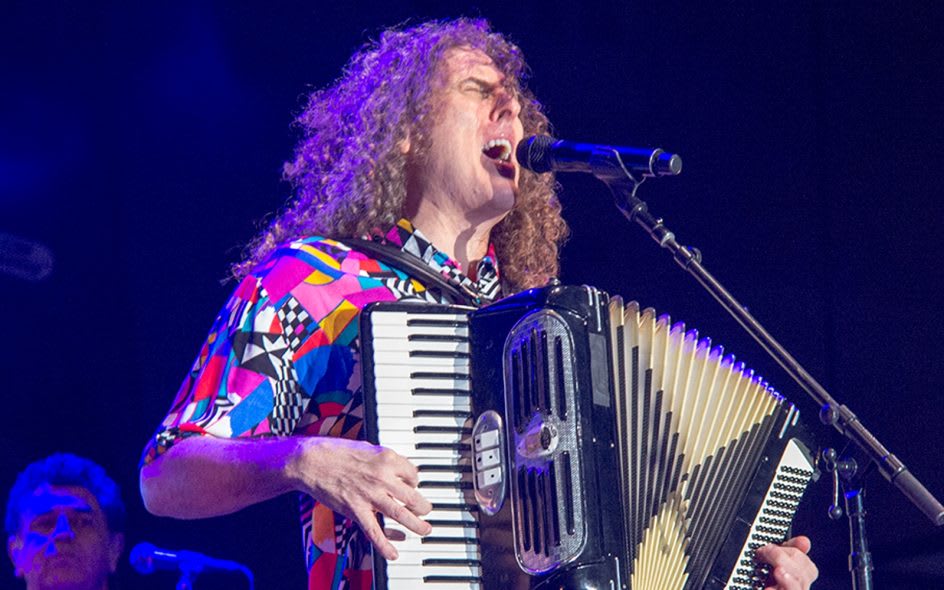 9PM
The moment everyone has been waiting for! The main act takes the stage and is greeted by an amphitheater of cheering fans, decked out in band t-shirts. The first chord is struck and we're rockin'. Everyone in attendance is dancing, smiling and singing along. As loud as it is, it's a quiet moment of rest for our Team Members who have been working hard to put on the best show possible. It's also the calm before the storm as the enthusiastic concert goers will be exiting soon.
10:30PM
Every good show must come to an end eventually. After the show ends, guests begin to exit the venue and head to their cars or back into the casino. For those concluding their night out, once again, we are grateful to the WSP and KPD for directing post-concert traffic and ensuring the safety of all.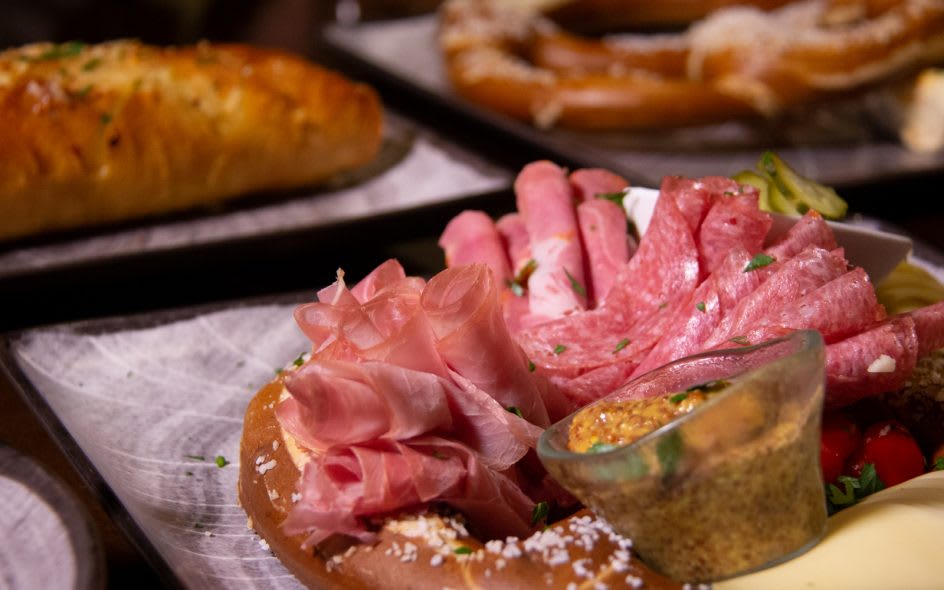 11PM
Just because the show ended, doesn't mean the party is over for those who head back inside. The Team Members in our dining venues have spent the concert prepping for round two. Drop into our most recently opened venue, Riverbank Taphouse, for a stone oven-fired flatbread paired with a brew from the 52 rotating taps.
Did You Know: If you show your concert ticket to the Camas Club, you can keep on rockin' with $5 in Reward Play. It's a win-win.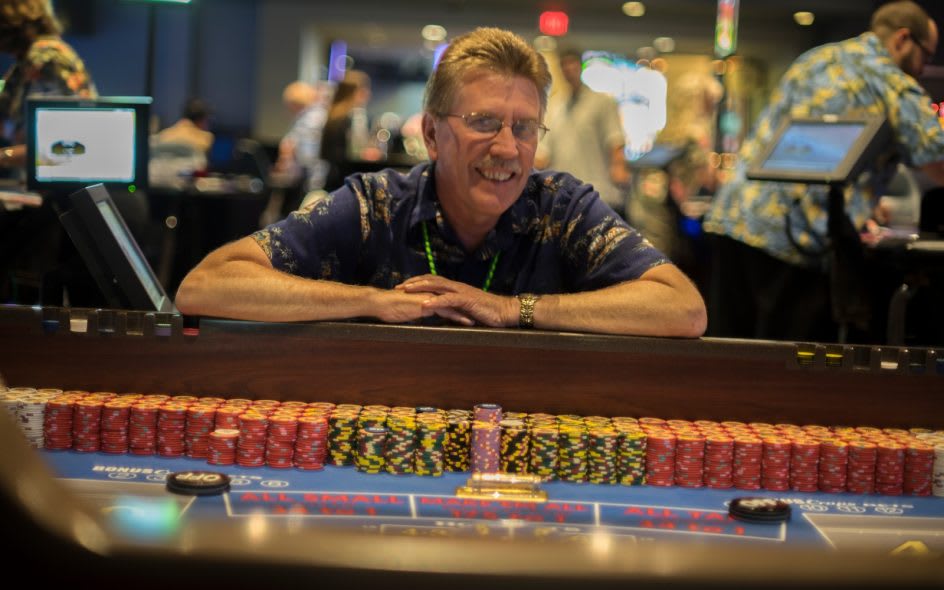 12AM
Of course, the pristine condition of the resort and casino would not be made possible without our hard-working Public Spaces Team Members who ensure every surface is clean and every space is comfortable for our guests, no matter how long the party keeps going.
1AM
It's just about quitting time for our AV Production crew. This A-Team works tirelessly to disassemble the stage, pack up all the sound equipment and get ready for the next show, sometimes the very next day.
Did You Know: The average AV Production crew shift runs about 14 hours. The longest shift was 20 hours.
2AM
Just when you think the buzz from the concert is about to wear off, a lucky guest hits a jackpot playing their favorite slot machine. Our casino Team Members are there to celebrate the big winner with a picture and some custom photo booth props.
Did You Know: Northern Quest paid out $62,213,545 in hand paid jackpots over $5,000 in 2018?
3AM
As some of our Team Members are headed home for the evening, other are just arriving. Since Northern Quest is a 24-hour operation and the sixth largest private employer in Spokane, it takes 1,600 employees to make sure everything is running smoothly, around the clock.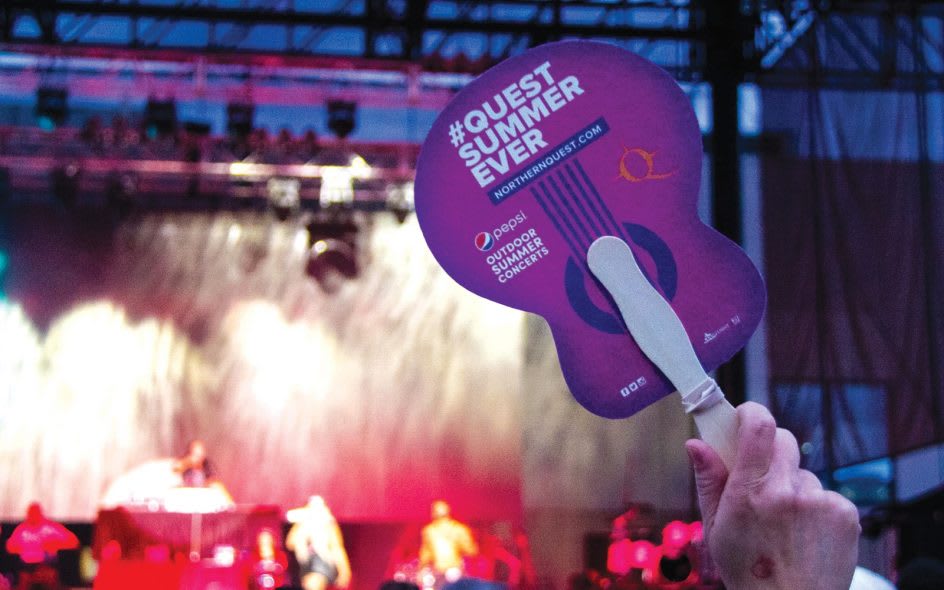 Since 2011, Northern Quest has brought world-class entertainers to our outdoor stage, and in that time have been fortunate enough to expand the venue to continue keep bringing bigger and better acts to Spokane. Concert day or not, our Team Members make it happen each and every day. Without their commitment to providing Kalispel Hospitality, we truly could not achieve this monumental task. Throw up your rock hands for the men and women who make it all possible!