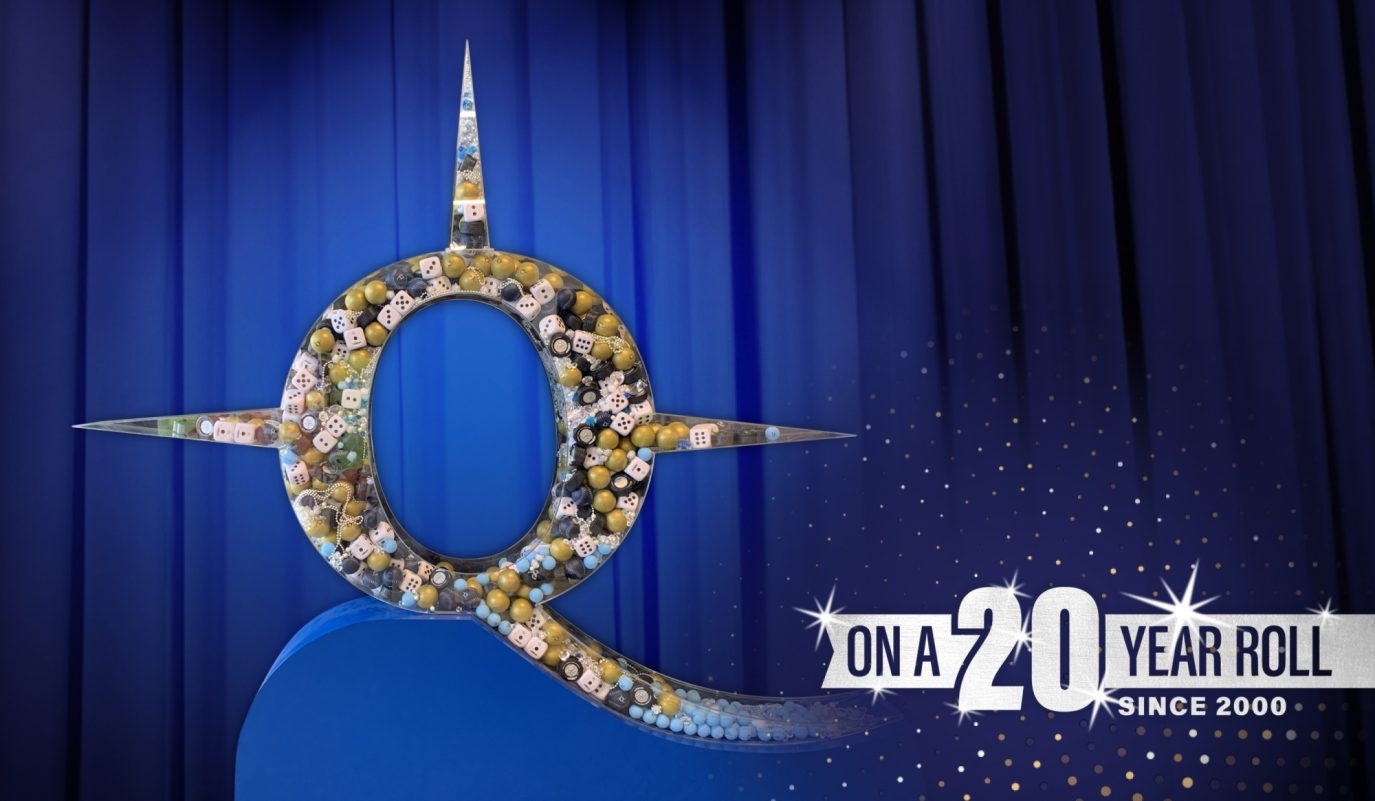 $10,000 Anniversary Guessing Game
Download our app to be eligible to win!
As part of our 20-year celebration, we've loaded up a giant Q with a multitude of items – and the possibility of winning $10,000! Log into your Camas Rewards account on the Northern Quest app by 8am each Monday in April, check out the Q in the Windfall lobby, then head to a Camas Kiosk to guess the number of items before midnight that night. Make up to three extra guesses each Monday by earning 100 gaming points for each one.

On Friday, Apr 30 at 8pm, we'll reveal the number of items and award $10,000 to the first actual or closest guesser (without going over) if they're here to claim it. If not claimed, we'll repeat the process with the next closest guess up to 10 more times.
1. This promotion will take place every Monday in April 2021; 5, 12, 19, 26.

2. To be eligible for the kiosk promotion, guests must have a Camas Rewards account and be logged into the Northern Quest mobile app each Monday by 8am. Guests must be 21 years and older.

3. On Thur. April 1, 2021, a 6-foot-tall acrylic 'Q' will be setup in the lobby in front of Windfall. The 'Q' will be filled with a multitude of items. On each Monday, beginning at 9am, those who qualify can go to any Camas Kiosk and swipe their card to receive their free entry into the $10,000 ANNIVERSARY GUESSING GAME. At this time, guests will enter how many items they think are in the giant 'Q'. Players can enter any guess between 1 and 9,999,999.

4. Guests can receive additional entries on each Monday for every 100 points earned while playing any game in the house (except OTB), with a max of 3 extra earned entries per a day. To claim these additional guesses, guests must go to the Camas Kiosk. Awarded bonus points cannot be put toward earned points for additional guesses. Guests will have until 11:59pm on each Monday to enter their guesses.

5. On Fri., April 30, 2021, at 8pm the number of items inside the 'Q' will be revealed. If more than one guest guesses the correct amount without going over, the prize will be awarded to the guest who made their guess first. If the exact number of items in the 'Q' is guessed, that player will be announced throughout the casino floor and will have 7 minutes to claim their $10,000 at the table in the lobby outside Windfall. The winner must be present to claim. If the winner does not claim, the guest with the second closest guess will be announced and will have 7 minutes to claim. If this winner does not claim, a new winner will be drawn. This process will continue to happen, until a winner claims; for a max of 10 names drawn. At this time, if the cash goes unclaimed, the money will be retained by Northern Quest Resort & Casino.

6. Winner will be announced throughout the casino floor with the addition of EPIC sports bar. Guessing game winner will NOT be broadcast on the casino TV's. Please see a Promotions Specialist or the Camas Club location for specific broadcast locations. Must provide a valid ID and SSN to claim. All prizes are non-transferable. Winners are responsible for all applicable taxes.

7. Team Members of Kalispel Tribal Economic Authority, Kalispel Casino, Northern Quest Resort & Casino as well as family members of Loyalty Marketing and Marketing, are not eligible to participate.

8. We reserve the right to modify or cancel at any time and to exclude any individual from this contest at our sole discretion. Any dispute not covered by the above rules shall be resolved by the casino management and shall be final and binding.
Northern Quest Resort & Casino is committed to responsible gaming. If you or someone you know has a gambling problem, please call the Washington State Problem Gambling Helpline at 800.547.6133 or Camas Path at 509.789.7630.